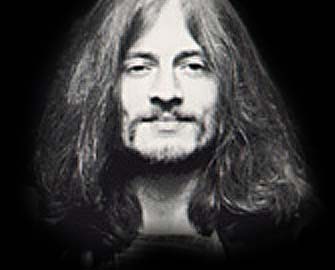 Partly through musical boredom--the bass remained a misunderstood and thoroughly underrated instrument in those dark ages of British rock--and partly through a desire for artistic adventure, John Paul started to investigate keyboard instruments. He's played church organ as a lad, so he already possessed the rudiments of keyboard expertise.

"Organ was originally my favourite love," he said, adding wryly, "but for session playing, I found it much easier to carry a bass guitar to work than a Hammond organ. So there I was living with all I had--a guitar, a Hammond organ, and a table and bed in my room in London.

"As a bass player, I wasn't influenced by a lot of people because it was only in the mid- to late-1960s that you could even hear the bass properly on records. I had a number of obvious jazz influences--most of the good jazz bass player influenced me in one way or another...Charlie Mingus, Ray Brown, Scott LeFaro. I even got into jazz organ for a while until I couldn't stand the musicians any more and I had to get back to rock and roll."

"I've got to own up. The first record that really turned me on to rock bass guitar was "You Can't Sit Down" by Phil Upchurch which has an incredible bass solo and was a really good record as well. It was very simple musically but the record had an incredible amount of balls."

"The only real impetus I had for arranging was panic. I put me hand up. You know how it is--somebody asks does anybody do any arrangements and you say, 'Yeah, sure.' Then as the session gets closer, you get a book and try and work out what goes where. After a couple of these situations, you find you're an arranger. It happens that way for a lot of people."


John Paul arranged the outstanding single "She's a Rainbow" for the Rolling Stones and also worked on several tracks on the Their Satanic Majesties Request album.

Source: Yorke, Ritchie. Led Zeppelin: The Definitive Biography. Novato, California: Underwood-Miller, 1993.


John Paul Jones media on this site:
sound clips

John Paul Jones web sites:
Presence
Baja
"My parents were both in the business. They were in variety--with a double act, a musical comedy thing. I've been on the road since I was two years old!"
"He [Jones' father] said I should play saxophone because I'd never starve," Jones laughed with the wisdom of hindsight. "But I didn't want to play sax--I wanted to play bass. When he found out I could play the bass, he said, 'All right, good bass players are hard to come by.' And off we went doing weddings and masonics and the usual run of things."
An only child, Jones had first taken up the bass as a fourteen-year-old student at Christ College boarding school.


Tony Meehan vividly recalls that particular audition. "It was held above the Roebuck Pub in Tottenham Court Road in London. We had a single called "Diamonds" at number one on the charts and we were putting together a band. John Paul heard about is and showed up. He was just out of school, very young and a bit nervous. Despite the nerves, he was a good musician and he knew his shit. He was cocky too in a certain way and I liked that. So we hired him. "He toured with us for a year or so until the band broke up."


Undoubtedly the Meehan-Harris line-up was ahead of its time. The widely acclaimed John McLaughlin was on lead guitar, while the late Glen Hughes, who achieved prominence with Georgie Fame's Blue Flames, was blowing sax.


"We were doing the sort of things which Chicago and Blood, Sweat and Tears came up with a few years later," Meehan claimed. "But we were booed off stage with some of it, the mainstream jazz things. People didn't want to listen, they just wanted to bop. It was dancing days--you didn't listen to music."


Jet Harris: "He's well read, a thinker, very intelligent. For John Paul, rock and roll was obviously neither the beginning nor the end of his musical potential. I think rock was really only a convenient vehicle for him; he would have been equally at home in either a jazz group or a classical orchestra."